TEACHER
Markus Rosendal - 10/10(SAT) Workshop@Golden Palace
今年はスウェーデン/イギリスからオシャレで超・クールなダンサー、マーカス・ローゼンダル氏をお招きします!
This year, we are having super stylish and cool dancer, Markus Rosendal from Sweden/UK!
◆プロフィール◆
マーカスはプロフェッショナルなダンスインストラクター、パフォーマーであり、またDJでもある。
彼は1998年に踊りはじめ、以後8年間は彼の祖国であるスウェーデンでキャリアを積み、その後はスイングダンスへの情熱をシェアするため、
WSやパフォーマンスをしながら世界中を旅してまわっている。
2015年にヴィンテージ服や、素晴らしいレコード、新しい生徒を集めるためにロンドンに移住した。
ときおり、ロンドンのストリートでは 彼がこんな風に練習しているのを見かけるだろう。(以下のクリップを参照)
1920-50年代のダンスのスペシャリストとして、彼はリンディホップ、ブギウギ、オーセンティックジャズ、タップ、シャグを教えている。
大人に教えるだけでなく、スウェーデンのコミュニティと協力して、子供たちにダンスやダンスの文化を教えることも楽しんでいる。
彼はまた、イベントの主催者・DJもあり、2009年に彼の地元スウェーデンのルードビカでスイングシーンを創り、
今日までレギュラークラスやワイルドなオールドスクールスタイルのパーティを盛り上げている。
◆ PLOFILE ◆
Markus Rosendal is a professional dance teacher, performer and DJ.
He started dancing in 1998, and after 8 years building a successful career in his home country of Sweden, he began travelling around the globe teaching and performing, sharing his passion for swing. In 2015 he moved to London to look for old clothes, great records, and new students!
Every once and a while you´ll find Markus on the streets of London practicing, like this:
A well regarded specialist in dances from the 1920´s – 1950´s, Markus now teaches Lindy Hop, Boogie Woogie, Authentic Jazz, Tap, and Shag. As well as teaching adults, Markus has enjoyed working with the community, touring Sweden teaching children around the country about dance and dance culture.
Markus also works as an event organiser and DJ, and the swing scene he began in his home town of Ludvika, Sweden back in 2009 is thriving today, with regular workshops and wild parties in an old school swing style.
■ コンペティション実績 / Awards
1st Place / Swedish Championships
2nd Place / European Championships
3rd Place /  World Championships
■Video Clips
プレイリストを再生する / Playlist

---
Kuno & Gosia - 10/9(FRI) Taster Class@VOXX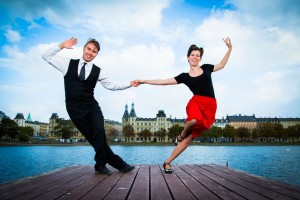 金曜日の夜は デンマークはコペンハーゲンから来る素敵なダンサー、クーノ&ゴーシャのクラスが受けられます!
彼らはコペンハーゲンにリンディスクールを持ち、コペンハーゲンエクスチェンジの主催者でもあります。
You can take a taster class taught by Kuno & Gosia from Denmark, Copenhagen Friday night!
They own lindyhop school in Copenhagen and are the organizer of Copenhagen Exchange.