TEACHERS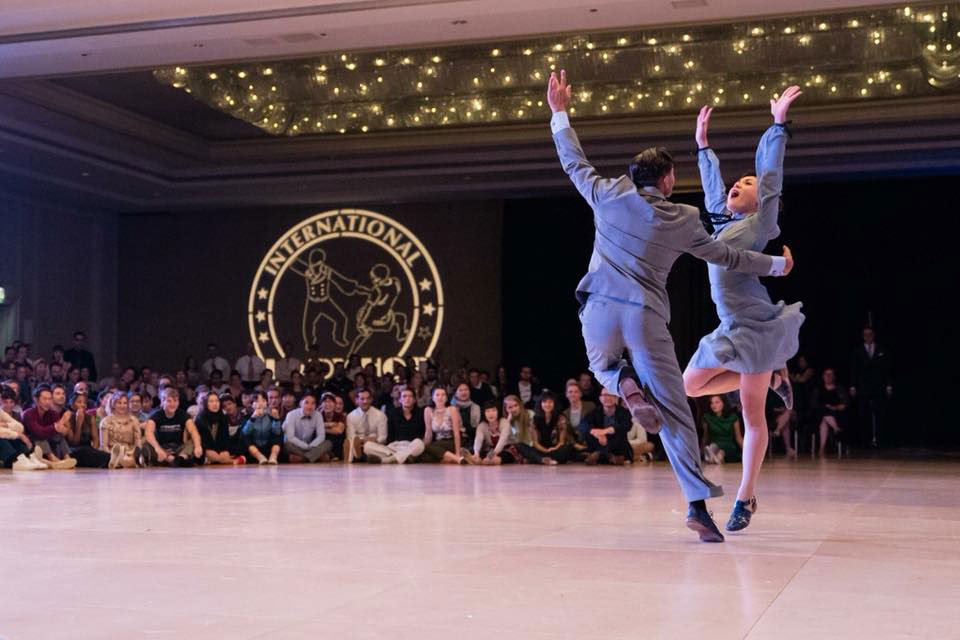 大阪出身のリンディホッパー、モエ嬢と、イタリアの貴公子ヴィンチェンゾを招いています。
世界の第一線で活躍する彼らから直接教われる貴重なチャンスです!!
This year, we have Vincenzo Fesi and Moe sakan who is originally from Osaka!!
You can learn from world famous teachers in Osaka, do not miss this opportunity!!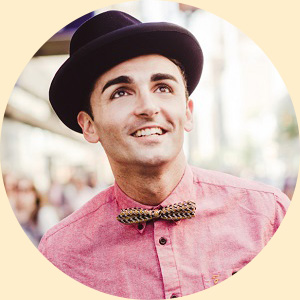 VINCENZO FESI

(ITALY)
ヴィンセンツォは十周年来活躍し続ける世界に広く知られたスイングダンサーであり、またインストラクター、振付師でもある。
メルボルン、パリ、ソウルなどの各都市から招待され、週末ごとにワークショップ、パフォーマンスを行う世界的インストラクターである。
彼はイタリアはコモに生まれ、4年前にローマに居を移す。
フレッドアステア、ジーンケリー、フランキーマニングなど、数々の巨匠に影響を受け、
リンディ―ホップ、バルボア、タップ、そのほかのジャズスタイルダンスを踊っている。
彼の黒い瞳と肌、誰をも魅了するほほ笑みは 、1940年代の映画のスターを彷彿とさせ、世界中のステージにその情熱を届けてきた。
コモとローマで初心者、プロフェッショナル向けの集中的なワークショップを主催し、
彼の豊富な経験に基づいて明確な指導法をもってワークショップを教えている。
2006年から世界的に有名なスイングダンスイベント、スイングクラッシュをイザベラ・グレゴリオと共に主催している。
毎年6月にイタリアはコモにて行わるこのイベントは、ジャズ黄金時代の古い映画や新聞にインスピレーションを得て、
数々のバンドと共に数百にものぼるダンサーを従え、コモを魔法の街に塗り替えている。
また、彼は数々の有名TVショーなどに出演し、その才能を遺憾なく発揮している。
Vincenzo Fesi is a worldwide recognised dancer, teacher and choreographer. As a real globetrotter, he teaches and perform at the most prestigious swing dance events around the world. Melbourne, Paris, Stockholm, Seoul and London are just some of the cities where he is invited as a guest every other weekend.
He was born at Lake Como, but Roma adopted him three years ago. Inspired by the incomparable Fred Astaire, Gene Kelly and Frankie Manning Vincenzo Fesi dances the Lindy Hop, the Balboa, the tap dance and many other jazz styles.
With his dark eyes and skin and his contagious smile, Vincenzo looks like a 1940's movie star and brings enthusiasm on stage all over the world.
Being more famous abroad than in the Bel Paese, Vincenzo is the Italian star that shines in the lively international swing dance scene.
Vincenzo organizes intensive workshops for beginners and professional dancers alike both in Como and in Roma. He has a specific teaching method that he developed throughout his years of experience in the fields. When he teaches and when he performs, Vincenzo gives off a contagious energy that drives his audience crazy. Since 2006 he organizes one of the most popular events in the world: Swing Crash Festival alongside Isabella Gregorio. The event takes place every June in Como. Inspired by old movies and newspapers of the golden age of jazz music, they organize an event with several live orchestras and hundreds of dancers that turn the city of Como into a magic place.
Vincenzo was special guest of the TV show Dancing with the Stars; he was the MC for Hermes at the "Vogue Fashion Night Out" in London; he led the main role of the short movie Lago di Seta, directed by Renee George and he was the first one to bring the dance at the 38th edition of the Roma Jazz Festival directing a choreographing project with the Massimo Nunzi's Orchestra Operaia.
Vincenzo is not only a dancer. He choreographs, sings, presents radio shows and he is also a capable story teller of the history of jazz dance. In 2014 he wrote the preface of the Italian edition of the book "Frankie Manning:
ambasciatore dello swing".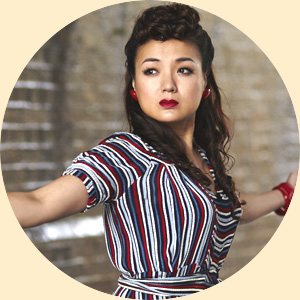 MOE SAKAN

(JAPAN)
大阪出身のモエは多くのダンスにおいて専門的な訓練を長年積んできた。
彼女は1999年にリンディホップに出会ってすぐに夢中になり、それ以降ダンスにおいてリンディホップは彼女の一番の選択となった。
アジアの真珠と称されるモエは2000年にロンドンに移住し、ローカルダンスシーンにおいてその輝きを遺憾なく発揮し、
ほどなくイギリスにおけるトップフォロワーに登りつめる。
ソーシャルダンス、またコンペ出場を精力的に行い、数々の英国、米国でのタイトルを保持している。
彼女はソーシャルダンス、パフォーマンス、ワークショップ(リンディ、バルボア、シャグ、ブギウギ)を行うため招へいされ、広く世界を旅している。
また、劇場、テレビ番組、映画など数々の作品にてダンサーとして出演している。
日本に帰国した際には、継続的に大阪でワークショップを行い、多くのダンサーから好評を得ている。
Moe Sakanhas had professional training in many types of dance. In 1999 Moe fell in love with the Lindy Hop, since then this has been her dance of choice. A pearl of the Orient, Moe moved to London in 2000, bringing a sparkle to the local swing dancing scene, and soon became the UK's top female swing dancer. An active social and competition dancer, she is proud to have won several UK and US competition titles. Moe travels the world extensively for social dancing, performing and teaching Lindy Hop, Balboa, Shag and Boogie Woogie. She has also enjoyed dancing for several productions, including theatre, television and film.