MKS
MARIKO
2001年の終わりに音楽仲間を通じてスイングダンスに出会い、その魅力にとりつかれる。
1930-50年代のオリジナルスタイルにフォーカスし、ダンスとしてだけではなく音楽、ファッションもあわせてスイングに関わることをモットーとしている。
スイングダンスを日本に根付かせるべく、精力的にワークショップ、パフォーマンスを行うかたわら、ソーシャルで踊ることをこよなく愛し、日本はもとより、韓国、アメリカ各地のコンぺティション、スイングイベントに数多く参加しその輪を大きく広げている。
近年は、同年代の音楽を愛するミュージシャンともコラボし、ライブ+スイングダンスのイベントなどを共催している。

At the end of 2001, it changed her life. Mariko's music lovers introduced her swing dance, and immediately she threw herself into the world.
She loves the authentic style of swing in 1930s-50s. She has the motto that she follows not only the dance style of the era but music and even the way of her dressing.
Mariko dedicates herself that people enjoy swing in Japan. She has been performing vigorously at a number of events to introduce it. She loves social dancing and you see her at competitions and events even in Korea and cities in the US, too. Her friendship network is growing and soon is going to reach the every corner of the earth.
Nowadays, She has been connected with musicians who love the music same era as lindyhop and runs swing event together.

コンペティション実績/Awards
Hong Kong Swing Festial 2014, Jack & Jill / 1st Place
National Jitterbug Championship(US) 2013, Jack & Jill / Finalist
National Jitterbug Championship(US) 2009, Jack & Jill / 5th Place
National Jitterbug Championship(US) 2008, Jack & Jill / Finalist
National Jitterbug Championship(US) 2007, Jack & Jill / Finalist
ETSUKO
モダンダンス出身。マーサ・グラハムダンスカンパニー元プリンシパルに4年間師事。
様々な舞台公演に出演。ジャズやヒップホップ、サルサ、スイングダンスを学び、国内外のワークショップやパフォーマンス、コンペティションにて成績をおさめる。
現在はスイングダンスインストラクター、ヨガインストラクター、高校体育教師など、あの手この手で人にハッピーを伝染させ、何よりも自分が一番楽しんでいるハッピーパーソン。
彼女が目指すスイングは、自分が楽しむことで見ている人も幸せになるようなハッピーダンスを踊ること。
Etsuko profile Etsuko studied dancing for four years under the former-principle dancer of Martha Graham Dance Company. She has danced on stage for several kinds of stage performances. She had also learned Jazz, HipHop, Salsa and Swing Dance and has lots of experiences in teaching workshops and playing performances. Without mentioning, titles at a number of competitions are awarded to her home and abroad. Today, Etsuko instructs swing dance and yoga and teaches PE in high school. By doing these and others, she finds it so much fun spreading happiness and joy over people and she is the one who is the happiest person and enjoys the most what she is doing.
What she wants to express through her swing is enjoyment and excitement to make the audience filled with happiness by enjoying herself dancing.
コンペティション実績 / Award
National Jitterbug Championship 2005, Intergenerational Jitterbug Contest / 1st Place (US Los Angels)
SHIN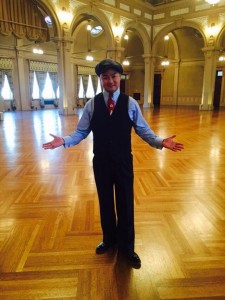 MARIKOを通じてスイングダンスを始め、2014年パートナーシップを組む。
スイング歴は浅いものの、海外のコンペティションで受賞するなど、持ち前のリズムとダンスセンスを発揮し、スイングシーンで頭角を現している。
あふれる笑顔と楽しいミュージカリティでフォロワーたちを魅了している。
コンペティション実績/Award
Mood For Swing(Tokyo) 2016, Jack & Jill / 2nd Place
Busan Swing Festival 2015,Rookie Jack & Jill /2nd Place
ISSHI

PETER VAWTER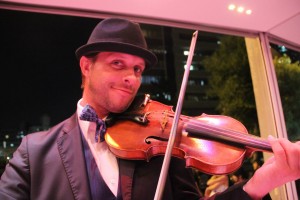 ---
創設者/FOUNDER —

DAX HOCK

& TAKUMI

Mechakucha Swingは2002年当時パートナーシップを組んでいたダックスとタクミによって設立されました。
始まってまだ日の浅かった大阪のスイングシーンにおいて本場のスイングを体現し、その普及に貢献しました。
彼のアメリカ移住を機に、現在のメンバーが引き継ぎ現在に至っています。
ダックスは現パートナーのサラと共に、映画,'Ctrl Alt Dance'にダンサー役として出演するなど、
世界のスイングシーンの第一線で活躍し続けています。
2014年夏には 10年以上ぶりに大阪に戻り、ワークショップを行い好評を得ました。
Mechakucha Swing was created by Dax Hock and Takumi back in 2002.
After he had left for America, we took over Mechakucha Swing from him and running now.
Now, he is one of top swing dancer with his partner Sarah Breck.
They appeared on movie,'Ctrl Alt Dance' and not only as dancers, but also as actors they got many compliments.